The Two Sides of Leo
Librarian
Leo has worked in libraries since his days at LakeView High School. This includes stints at NYU and CUNY as well as his current employer, DePaul.
At NYU, he managed a reference collection of 20,000 volumes and at the same time, managed the library's website.
For Leo, it's not simply a job -- it's an activity (particularly reference and public service) that he couldn't live without.
Mr. Media
Daddy used to run a film and recording studio in Chicago, so Leo had an incredibly early introduction to all things media. He was probably the only 12-year-old who could splice recording-tape.
The digital revolution of the mid-to-late Nineties totally captivated Leo. It drew him away from a more traditional graduate degree in history, focusing him instead on exploring the possibilities of online interactive media.
---
Project Highlights
Germania Broadcast 1927-1967
Tribute to daddy in honor of the 90th anniversary of his first broadcast of the Germania Broadcast. Basically the information is broken down into four categories: 1) Events; 2) People; 3) Places; 4) Library (Documents). We've also got tapes from the period -- maybe even one of me speaking German at 12 yrs old -- which we'll put up shortly. (Work in Progress)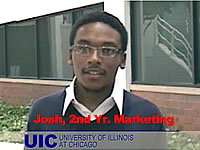 Why UIC? - Student Videos
Video production including motion graphics and distribution on YouTube of students explaining why they chose UIC. Created for the UIC Admissions and Records website. (UIC - Adobe Premier, Adobe AfterEx).
Recruitment Calendar & Mapping
Transformation of the UIC Recruitment Calendar from a Google Spreadsheet to a highly interactive set of maps along with a tailor-made internal reporting tool. General reaction from all those involved, "that's so cool!"
Slides, Slides, Slides
Slides are a routine thing I do as part of my digital content responsibilities. Depending on the news item and related artwork, I put together a draft; I send it to whoever's in charge for feedback. They'll have a suggestion (actually more than one). I'll tweak the draft and send it back to them. Finally the thing will go up -- far better thanks to this back-and-forth communication. Did I mention I enjoy doing this?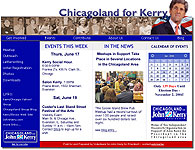 Illinois for Kerry Web Site
First 'community site' I set up following my return to Chicago. My participation included design and implementation of the online presence in support of John Kerry for President -- initially in the Chicagoland area and later for the entire state of Illinois. As a team, we developed communication networks throughout the state (yahoo groups) as well as local monthly meetings (meetup.com) and targeted volunteer opportunities. These activities continued in various manifestations (and different sites) through the Obama period. (File under Organization & Communication Skills with a touch of Tech.)
To see more projects, go to the 'Projects' page.